#RetreatLife…7 ways (in just 7 days) it made a noticeable difference…by Vicki Anstey
A week on a fitness retreat in idyllic Kefalonia…an incredible experience and chance to re-boot, for sure. But can seven short days really make a long-lasting, noticeable difference?
As many of you know, I recently had the opportunity to take Barreworks out of Richmond and into a stunning spot in the middle of the sun-kissed Ionian islands. This was no 'juice-cleanse meditation', rather a physically challenging and (thankfully) nutritionally rewarding experience.  Within the confines of a fabulous 5* hotel and in it's surrounding countryside, we hiked, biked, ran, swam, cycled and BARRE'd ourselves into the shape of our lives.
Let me count the ways…
1. No caffeine
The hardest part for me was not just giving up caffeine for the week of the retreat, but a week beforehand, in order to avoid caffeine-withdrawal headaches whilst in Kefalonia. I confess to drinking three coffees per day. And I'll admit, sometimes I use it as a crutch (when I'm exhausted) or as an appetite suppressant (when I have no time to eat in between classes).
In short, I definitely had a caffeine dependency. After two days of headaches (and genuinely missing the taste!) I started to feel great. And less anxious. I didn't need to panic if I wasn't going to get a coffee 'in time' because it just wasn't an option. I was thirsty, so I drank lots of water. Far more than usual. Small pockets of cellulite improved in appearance (no word of a lie) and I had to find energy from far more reliable sources. No bad thing!
2. No alcohol
A glass or two of wine on a Saturday evening is about the extent of my alcohol consumption. Maybe a G&T on a Sunday afternoon. No big deal to go without, and the thought of it didn't bother me in the slightest. But to let your body rest and detox for effectively two weeks has quite an effect. No poor food choices, no dehydration, no water retention. Boom.
3. Regular, balanced meals
Most exercise professionals will tell you that they have somewhat unorthodox eating patterns. We often work at key meal times and we generally don't want to feel full before a workout, but need to know that we won't feel faint or experience muscle atrophy either.
I can function quite well on very little food (to a point). I like to train fasted and can go for hours between meal times. This is not something to brag about, but it is a consequence of my work. Often I crash when I suddenly realise I need fuel, and we all know what poor choices that can result in!
The thought of having breakfast at 8am, a snack at 11am, lunch at 12.30pm, juices at 4pm and dinner at 7pm was totally alien. And slightly scary actually. How was I going to manage all of that? But surprisingly I did – and for the first couple of days, I was even hungry. In spite of their regularity, these nutritionally balanced meals, smaller in size than my usual serving didn't satisfy me at first. But when my metabolism adjusted, I didn't have a single hunger pang. I felt light, but energised. Excited to see what the next meal would be, but not desperate for it.
4. Focused exercise sessions
Of course, I teach barre every day. I also run a fair bit and walk my (large) dogs in Richmond Park (hiking was of no concern to me). I cycle to the studio every day. And for good measure, I usually throw in a few heavy weight-lifting sessions per week.
I definitely did less strenuous exercise while I was on the retreat. I only had time for short 'tabata' style workouts in the gym (and no heavy weights). But it was more focused. My runs were hilly, very hilly. Bike rides were the same. The hiking was on rocky terrain – and with more hills (the likes of which we don't have in Richmond Park). Amongst the group Barreworks classes, I also took private workouts with the guests. And with our barre overlooking the sea, we had some fairly strong winds to challenge our balance even more than usual.
We also (because of the heat) had exercise sessions scheduled very early (pre-breakfast) or late afternoon/early evening. Instead of perking ourselves up with coffee, we started the day with a workout, or took the 'afternoon' slump head-on and plié'd right through it. It was less of a treadmill, much more a rollercoaster. Peaks throughout the day, perfectly timed around meal and snack times with rest in between.
5. Turmeric 'lemonade'
You either love it or hate it. But this was just one example of the immune-boosting, anti-inflammatory, detoxifying ingredients slipped into our (delicious and beautifully presented) dairy-free, gluten-free cuisine during the week by our dedicated Chef, the talented Mr Alan Whichert. Turmeric, ginger, lemon, spring water, a dash of maple syrup. Take twice a day in between meals. For me, it's a keeper.
6. Sleep
As someone who lives in London, noise pollution (planes, trains, sirens, noisy neighbours) is a given. And you think you are quite accustomed to it actually. I thought I slept well. Usually I'm too physically tired to stay up late, or count sheep once I get under the duvet. But deep, un-interrupted sleep (with no caffeine or alcohol to stimulate you) is a whole other world of wonderful. And leaping out of bed at 6am, or earlier on some days was effortless.
7. Group goals
People who workout together achieve serious inch-loss together. They also provide camaraderie, share the pain (and exhilaration), get each other out of bed on time, up the ante for one another and motivate each other when the going gets tough. We did everything as a group and it made such a difference. No hitting the snooze button, no bailing out because no-one would know except you. No talking yourself out of doing something new because you felt self-conscious. And a wonderful way to build friendships…
So what now…?
I have returned feeling, well, like a racehorse to be honest! In absolute peak condition.
People have commented on my leaner silhouette, but I also feel different. Not necessarily 'rested', but squeaky clean. My metabolism is boosted, my muscles are a little stronger and 'cleaner' (feedback from a recent deep tissue massage). Mentally I feel resilient and sharp. My eyes look brighter (zero hours in front of a screen), my skin is glowing and my hair is more glossy.  My lungs feel expansive and full of fresh air, my stomach feels settled, less bloated, more taught.
Will it last, I wonder? Well, some things I have no control over (sunshine, noise pollution) but others are completely within my control. The fact remains that even the tiniest adjustments to your routine can (and do!) make a big difference over a period of time. Being obliged to commit to this way of life for only a week has really opened my eyes to the fact that we can all make changes. All the time. And that it's so worth doing.
And even if I lose a little focus, when the nights draw in and the days are colder, I know exactly what I need to get back on track. Until the next retreat, that is, when all the hard work and decision-making is done for me…
Watch this space (and save your pennies) for Barreworks in Kefalonia 2108, it's going to be incredible.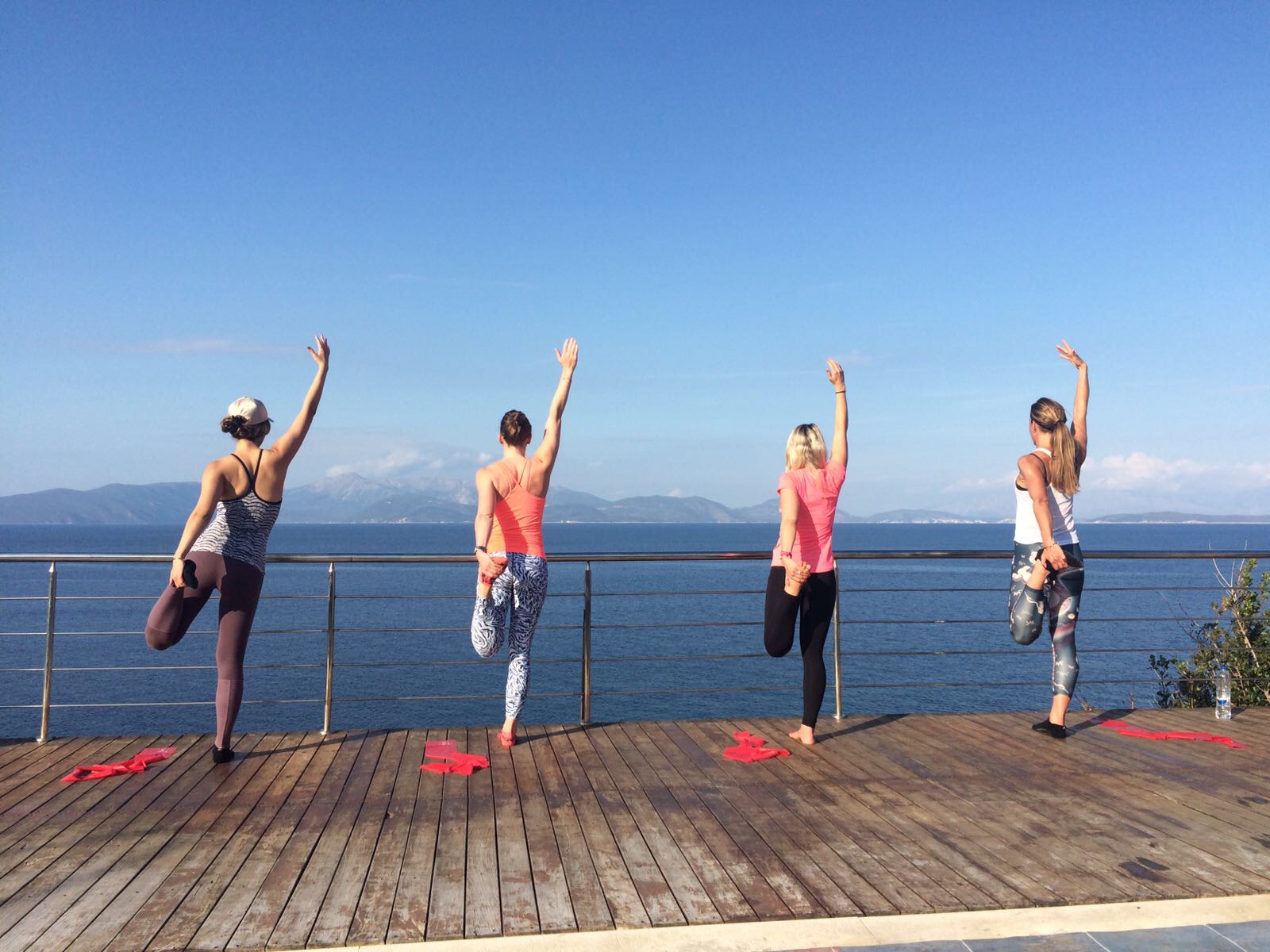 What to read next...